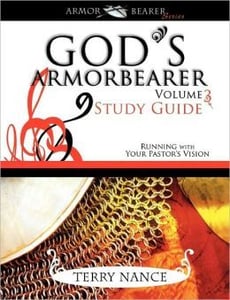 $

15.99
This book replaces "Vision of the House" by Terry Nance
THE ARMORBEARERS OF TODAY WILL BE THE LEADERS OF TOMORROW.
Terry Nance, author of the best-selling book God's Armorbearer Volumes 1 and 2, reaffirms that the local church is God's idea--not man's--and that this is the day of a great harvest in which millions will need to be trained in the Lord.
In God's Armorbearer Volume 3 you will learn:
* How important it is to get plugged into your local church.
* How to get out of the comfort zone and develop your gift zone.
* How to become Kingdom builders and not empire builders.
* How servanthood is the key to unlocking your destiny.
God's Armorbearer Volume 3 shows how the local church will play a major role in this last day move of God in preparing the way of the Lord.